At the Soroptomist meeting this evening, we had a guest speaker - Ray Lee Hall. His wife was first diagnosed with breast cancer in 1996, and he kept a journal during that time. She passed away in 2008, and he took his notes and wrote this book. He spoke at our meeting this evening - telling us why he wrote the book (not for the money - his portion goes to the Breast Cancer Research Foundation). The book details their journey through the treatments and medical jargon and her life throughout this time. It was clear from his talk that Ray Lee deeply loved his wife. In speaking to him, he chose the Breast Cancer Research Foundation because a larger portion of the donation goes to research.
If you'd like to read the editorial review, click on the book cover.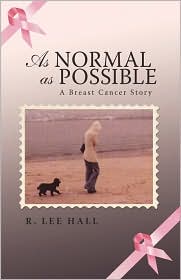 In case you were wondering about Soroptomist International, it is an international organization for business and professional women working to improve the lives of women and girls in the local community as well as throughout the world. You can check out this website to find an organization near you.